Our volunteers
There are approximately 14,000 volunteers, located throughout all South Australian regional and semi metropolitan communities. This volunteer base provides a range of fire and emergency services to more than 434 communities across this State.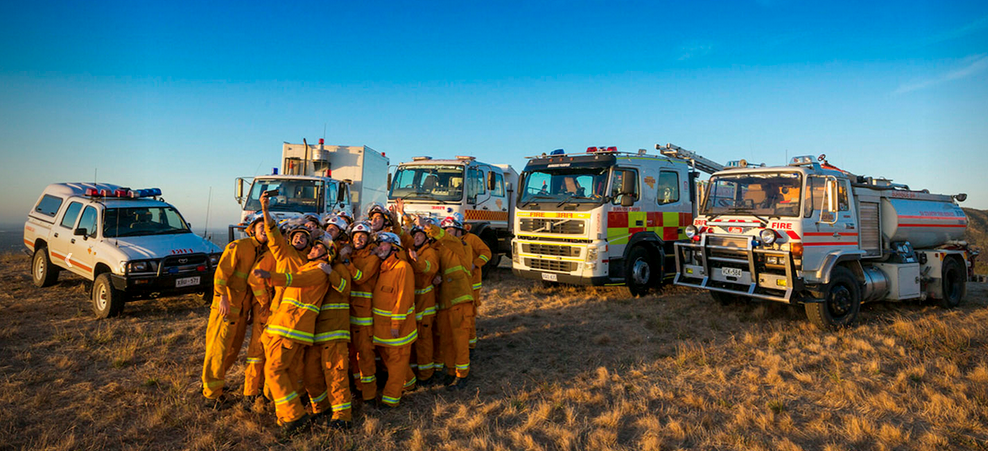 CFS brigades attend more than 7,000 incidents each year including:
Bushfires
Structure and Motor Vehicle Fires
Road Crash Rescue
Hazardous Material Spills
In addition, the CFS supports and assists the SA Metropolitan Fire Service, State Emergency Service, SA Police, SA Ambulance, and other agencies, and performs an important role, with local government, in fuel removal and bushfire prevention, and in community bushfire and fire safety education.
CFS volunteers who have died while volunteering
Following is a list of those volunteers who have made the ultimate sacrifice in the course of protecting our community. They retain our deepest respect and appreciation, and our thoughts remain with their families

Andrew Harrison
Lieutenant
Mount Templeton Brigade
Nantawarra Fire
31 October 2014
Andrew Lemke
Brigade Firefighter
Lucindale Brigade
Ash Wednesday Fire
16 February 1983
Barry McLoughlin
Senior Firefighter
Athelstone Brigade
Vehicle accident en route to fire
Caveton Fire
15 February 1979
Brian Fox
Captain
Lobethal Brigade
Heart attack at incident
22 January 1986
Brian Johnston
Deputy Group Officer
Millicent Brigade/ Wattle Range Group
Rendelsham Fire
Vehicle accident at incident
9 December 2014
Brian Nosworthy
Callendale Brigade
Ash Wednesday Fire
16 February 1983
Dean Dennis
Brigade Firefighter
Yeelanna Brigade
Property fire
Possible heart failure at incident
18 March 1985
Howard Kruse
Brigade Firefighter
Waterloo Brigade
Heart failure
1 May 1990
Leslie Peek
Brigade Firefighter
Deputy Group Officer
Strathalbyn Brigade
Heart attack at incident
10 March 1994
Neil Richardson
Brigade Firefighter
Ungarra Brigade
Wangary Fires
11 January 2005
Peter Aird
Brigade Firefighter
Moorook Brigade
Heart attack at incident
21 August 1993
Peter Matthies
Brigade Firefighter
Summertown Brigade
Caught in fire Ash Wednesday Fire
16 February 1983
Peter Stacy
Brigade Firefighter
Burnside Brigade
Vehicle accident at incident
23 March 1999
Robert Jones
Brigade Firefighter
Yahl CFS Brigade
Heart attack at incident
1 February 1991
Trent Murnane
Brigade Firefighter
Cummins Brigade
Wangary Fires
11 January 2005