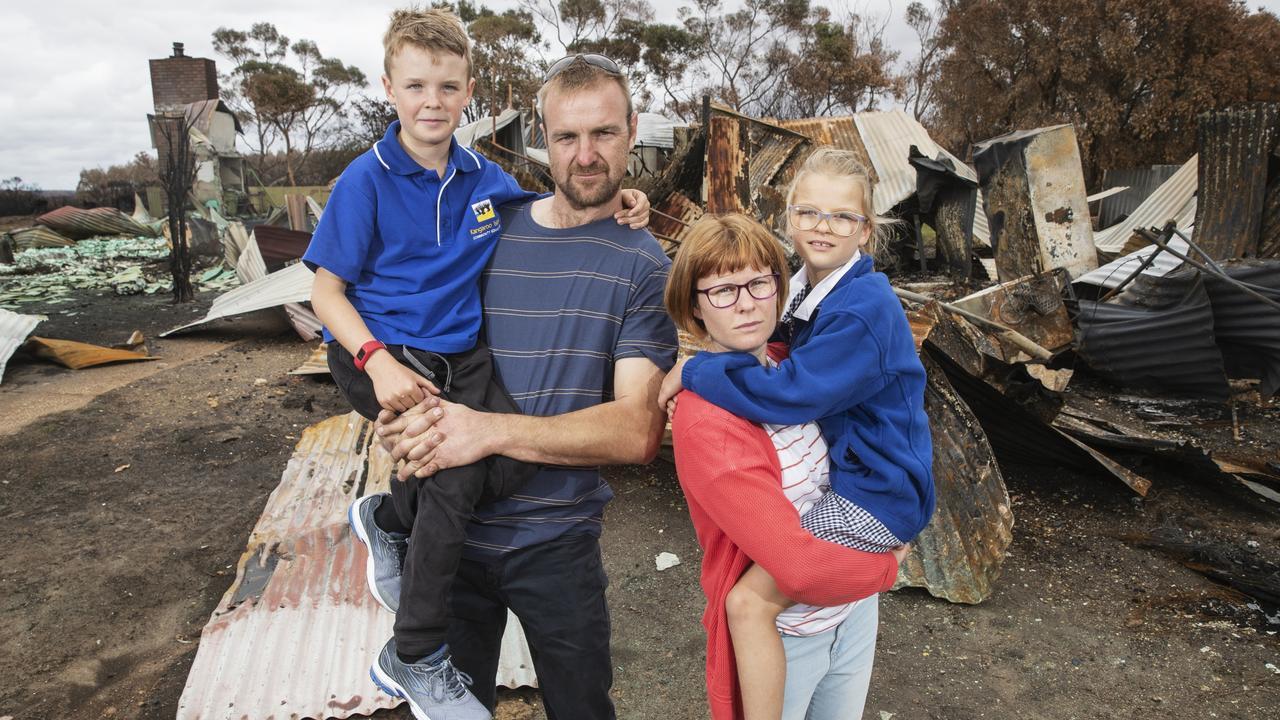 Six months on from losing his house and farm in the worst bushfires ever experienced on Kangaroo Island, sixth generation farmer and CFS volunteer Tim Buck says it's important to reflect on what's been achieved in that time.
"It's pretty impressive from where we were. We are indebted to so many people for helping us it's not even funny", said 35-year-old Tim, a sheep and cattle producer.
"We've got a long way to go but we are starting to feel like we're getting on top of things."
Tim and wife Kate, and their children Aiden 10 and Emily 8, lost their house and farm business - including more than 3,500 sheep and 120 cows and calves - when fire ripped through their 700 hectare property 18kms west of Parndana on 3 January this year.
The farm is jointly owned by Tim's parents, Bruce and Alison Buck, who sadly also lost their home in the bushfires, and have played a huge role in the young family's recovery effort.
With both parents CFS volunteers, Tim followed their lead and has been part of the service since he was 16. He's now Western Districts Brigade Captain.
On that devastating Friday in early January, he responded to a call about 5am advising him that the fire had breached containment lines near the cliffs on the north western corner of the island.
While a plan was devised, Tim said there was little his crew could do as the fire raced in a south-westerly direction and then pushed to the south east as the wind changed.
"We were listening to radio traffic and knowing that it wasn't going well and hearing that other crews were caught in burn overs (when fire goes over an appliance). It's not what you want to hear," he said.
His Dad Bruce had been out on the fire ground until mid-afternoon when the wind changed and went home to shift stock. When he could hear the fire approaching early evening, Bruce decided to leave the farm.
Mum Alison was working in the control station in Parndana where she is a logistics officer for one of the state's Incident Management Teams. When the station was evacuated, Bruce picked her up and they sought refuge in Kingscote for the night.
It was close to midnight when Tim and his crew made their way back from the north west of the island to Parndana.
"We were travelling at about 40kms an hour. It was a really slow trip, and everything was black," he said.
"We lost our bearings and had no idea where we were because there were no identifiers, everything was burnt."
Tim said while he knew the conditions that day were against them, and the chances of holding the containment lines were not high, "never in my imagination did I expect it to be as bad".
Fortunately, Tim and Kate's two children were with their aunty in Meningie at the time and returned several weeks later once some of the clean-up had been done. Tim says he's pleasantly surprised with how well they have coped.
While dealing with the enormity of losing his house and farm, Tim got to work the next day on coordinating his highest priorities.
"About a dozen people turned up to deal with the injured livestock. It was a huge relief for me to have people do that, so I didn't have to put down and bury my own stock," he said.
One aspect of the recovery that Tim is incredibly grateful for has been the support received from many organisations including the CFS Foundation.
"Within days of us being burnt out, we had money from the Foundation transferred into our account. It was one thing that we didn't have to worry about," he said.
"The biggest thing for us was that it was there and could use it when and how we wanted at a time when we had a hell of a lot to decide. It also allowed us to get as much normality back as possible in a very difficult situation."
A large part of their recovery process has been buying a new home. The house that burned down was a rental they had lived in for 13 years and they have now bought their own home on a small property near the family farm. Tim says while they are still settling in, he feels that life is returning to normal.
"Other than fences, we have ticked a lot of the boxes of what needed to be done and we can now think about running a farm business again instead of recovery," he said.
Before the recovery effort began in earnest, Tim quickly identified that he had to re-stock as a priority given the farm's main income is from lambs. He purchased 4000 sheep from NSW and Vic and will be ready to sell lambs again prior to Christmas. He will take some time to decide whether to rebuild a cattle herd as very few of his breeding animals survived.
While he's been focused on rebuilding his own life and business, Tim is aware that 90% of his brigade were burnt out too. He talks about all sorts of emotions being felt and shared amongst them - from anger and frustration to thankfulness and hope.
"I think everyone's coped quite well. We have got an amazingly close community here. It's an old-fashioned country community and I think that's held us in good stead,'' he said.