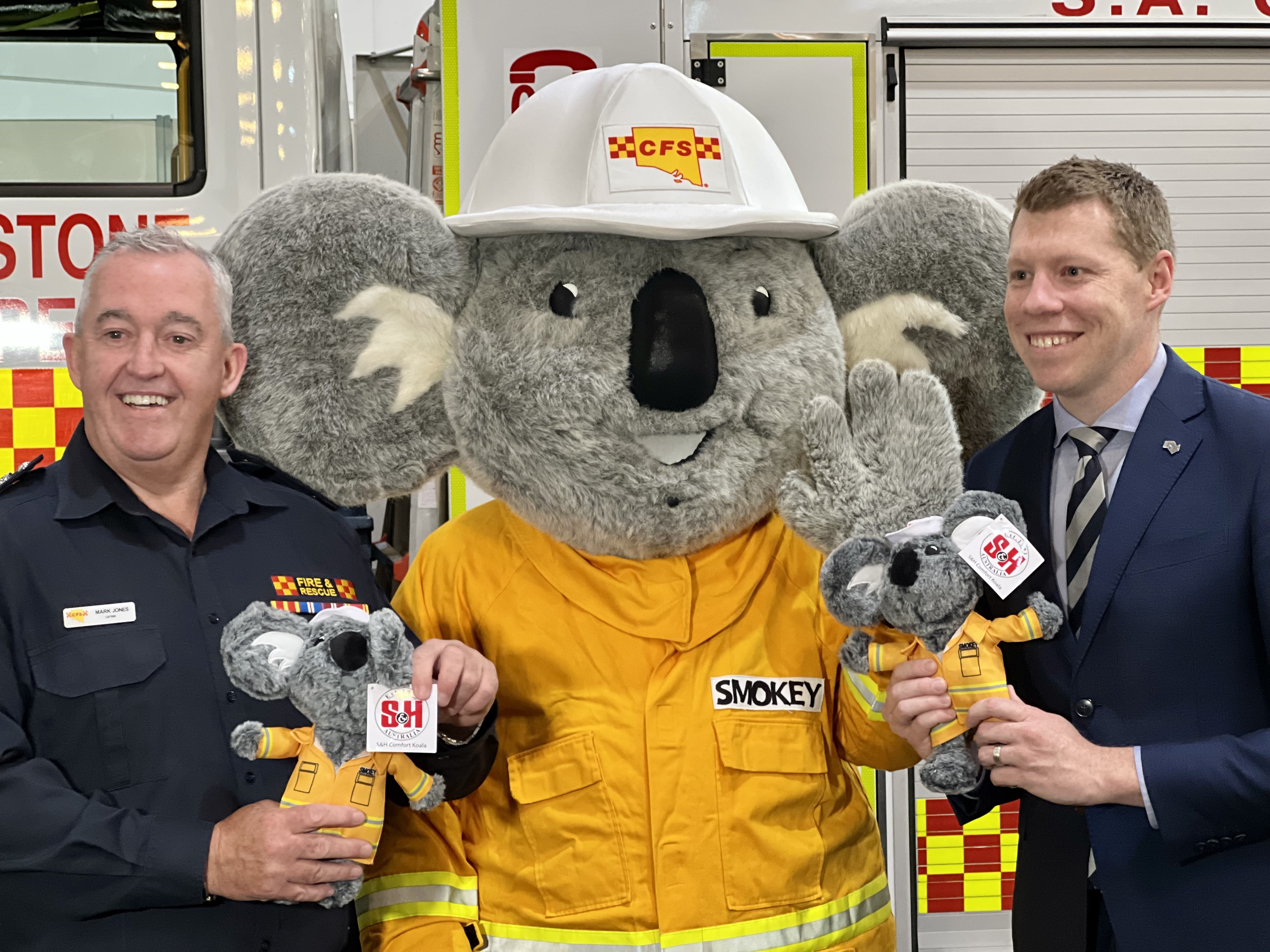 The CFS Foundation has launched it's new Comfort Koalas to support children during emergency incidents, thanks to sponsor Stewart & Heaton Clothing.
The new Comfort Koalas aptly named Smokey were launched Tuesday 23rd August at the Australasian Fire & Emergency Services Authorities Council Conference and Exhibition, held at the Adelaide Convention Centre where the Hon Joe Szakacs MP, Minister for Police, Emergency Services and Correctional Services and CFS Chief Officer Mark Jones officially announced the launch.
Stewart & Heaton Clothing have generously donated 500 Comfort Koalas to the CFS Foundation to distribute to South Australian CFS brigades to have on their Fire Appliances and Road Crash Rescue vehicles to provide relief and comfort to children in the event of road accident or other incident.
CFS Foundation CEO Gloria Berni says the importance of small gestures, such as the gifting of a Comfort Koala, during traumatic incidents should not be under-estimated. A Comfort Koala can be a way of providing ease for a distressed child and can shift the attention away from the incident and towards something soft, gentle and soothing.
Mat Ascoli, Stewart & Heaton's South Australian Manager said the opportunity to collaborate with the CFS Foundation was a no-brainer. "When we heard the CFS Foundation was looking for a new sponsor for the Comfort Koalas, we knew we had the contacts and resources to make it happen."
"For 25 years, we've had a very strong relationship with the CFS and their volunteers, and we are delighted to assist the Foundation with this very important initiative" Mr Ascoli said.
In 2021-22, the SA Country Fire Service attended over 2,000 vehicle-related incidents - providing a road crash rescue response for 90% of the state.
Ms Berni concluded "Young children are often traumatised by the circumstances surrounding these incidents and something as simple as a Comfort Koala can make all the difference".
We sincerely thank everyone who assisted us in making the launch a huge success.