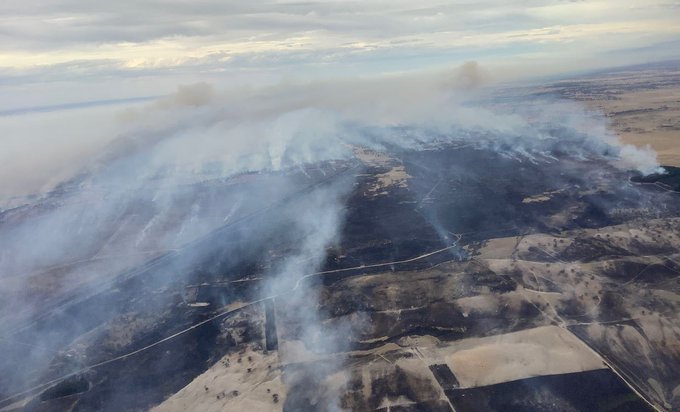 Colin James and Patrick James, The Advertiser - Published January 12, 2021
The threat from a fast-moving grassfire near Lucindale has eased after it destroyed about 14,000ha and left thousands without power.
CFS Firefighters still are working to contain the fire while farmers with properties in its path are assessing damage and shooting injured livestock.
More than 3000 people in the area remain without power while at least one home, an old school, and a vacant store have been damaged or destroyed.
Large numbers of sheep and cattle have been killed or injured while hundreds of kilometres of fencing has been destroyed.
SA Police are investigating how the fire started in extreme heat at lunchtime on Monday in the Mount Scott Conservation Park east of Kingston SE before being pushed by strong north-westerly winds towards Lucindale and Naracoorte.
While the fire danger has been downgraded after winds shifted to the southwest late on Monday and temperatures dropped, the CFS said on Tuesday morning it remained active.
"The fire currently has an advice message active and, although the fire conditions have slowed, the fire is not yet contained," he said.
The CFS said the fire had impacted on the communities of Avenue Range, Blackford and Lucindale with "at least three structures confirmed lost or substantially damaged".
"Rapid damage assessment teams will be in these areas checking structures," it said.
Forty CFS and Department of Environment and Water (DEW) trucks and 200 firefighters were on the fireground, along with four appliances and a command vehicle from the Victorian Country Fire Authority.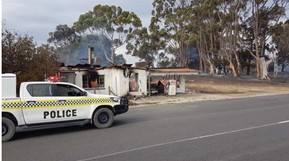 The old Avenue Store was burnt out in the Lucindale fire. Picture: Nick McBride
Electranet and SA Power Networks staff were inspecting damaged electrical infrastructure.
People have been urged to stay away from downed powerlines as they could be live.
Department of Primary Industry SA (PIRSA) teams were assessing stock losses and helping farmers destroy injured stock.
Staff from the South East Drainage Board were inspecting the network of drains in the area which traverse the fireground for damage to bridges and other crossings.
Liberal MP for Mackillop Nick McBride said hundreds of sheep and cattle perished in the fast-moving blaze.
"These are huge losses for people who have lost stock in this area, because they're mainly grazing businesses down this way," Mr McBride said on ABC Radio Adelaide on Tuesday morning.
Mr McBride said the fire burned to the fringes of Lucindale, where around 100 residents sought refuge in the town's community hall.
"My understanding is we lost one house, a family home at Avenue (Range), I've heard reports we might have lost one (house) on the fringe of Lucindale, on the outskirts of the town but I can't confirm that. "We also lost the old Avenue school ... a church or school at Avenue was burned out."
At the height of the fire, almost 200 CFS volunteers and farmers with private firefighting units were battling the blaze in temperatures of almost 40C and winds of up to 70km/h.
Their efforts were supported by six waterbombers which made more than 100 drops as pilots battled to stop the fire from engulfing Lucindale.
CFS alerts went out to hundreds of locals in the potential path of the fire while numerous roads were closed.
Motorists driving in the fire ground are urged to be alert for injured or dead livestock and wildlife and fallen trees or branches.
The blaze came as the first fire bans of the year were issued ahead of severe and extreme fire danger conditions.