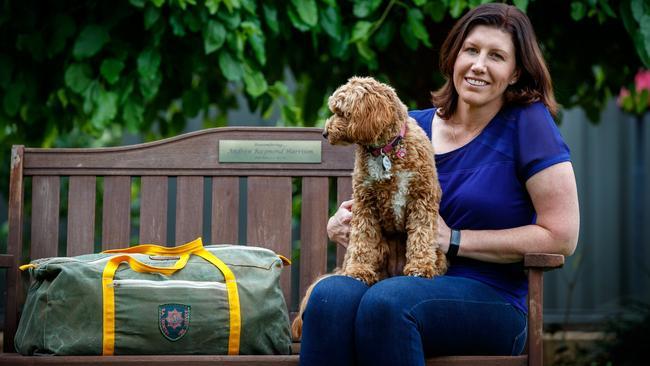 Gabriel Polychronis, The Advertiser - Published October 29, 2020 09:30pm
It's been years since Andrew Harrison rushed to fight a bushfire without his safety gear. The sight of his CFS bag still brings his wife to tears.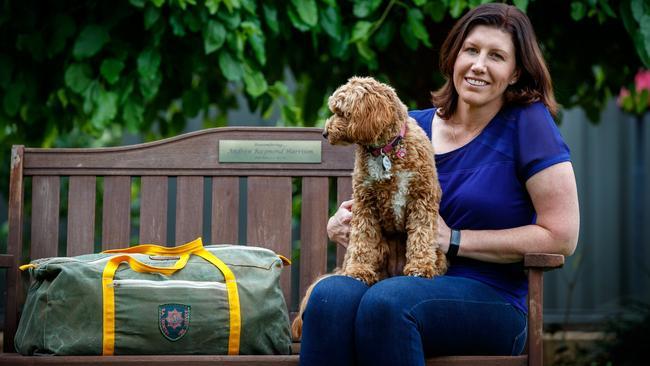 Kellie Harrison with her late husband Andrew's fire gear on a bench dedicated in his honour. Picture: Matt Turner.
For Kellie Harrison, the sight of her late husband's old CFS bag still brings her to tears.
It was six years ago on Saturday when a split-second decision to fight a fire without proper safety equipment and protective clothing cost experienced CFS volunteer Andrew Harrison his life.
He left behind two boys and Kellie, who now hopes to save lives with an emotional message ahead of the upcoming bushfire season.
"Don't take unnecessary risks. Take the time to put your safety gear on," she said.
"It could be the difference between you going home to your family, or your family being left with a CFS bag."
Andrew, a fifth-generation farmer, was doing maintenance work on a header just before noon on October 31, 2014, when he was called to a paddock fire that had broken out on their neighbour's property at Nantawarra, just north of Port Wakefield. It had started from a farmer reaping nearby.
Despite being a CFS volunteer of 20 years, Andrew jumped on a farm firefighting ute with a friend, instead of getting a CFS truck from the nearby Mount Templeton brigade, where he was second-in-command.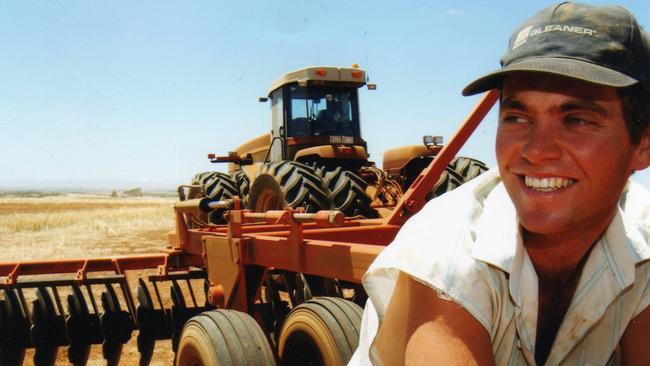 Andrew Harrison died at the age of 38 while fighting a paddock fire on a neighbour's farm. Picture: Supplied by family

"I rang Andrew and I could hear wind howling and I said 'Sweet, there's a fire' and he said 'I know, I'm on it, we're on our way'," Kellie said.
"So, I just assumed he was on the CFS truck. We only lived a kilometre from the Mount Templeton CFS shed, so Andrew was always the first one to go and get the truck going."
As Andrew and his friend were battling the blaze along the fireside, the wind changed and flames started to head straight for them.
Andrew, standing in the back of the ute, signalled to his friend behind the wheel to turn around and retreat, as thick smoke blanketed the paddock.
Once he emerged out of the smoke, the driver looked back and realised Andrew was no longer there.
He had fallen off the vehicle and was caught in the flames – a tragic accident that would not only shatter his family, but also the CFS and Mid North communities.
Andrew suffered burns to 93 per cent of his body and was flown to the Royal Adelaide Hospital.
Doctors told Kellie he would lose all his limbs and never be able to breathe again if they continued with surgery. It became clear she had no real choice but to turn off his life support and let him go peacefully. He was 38.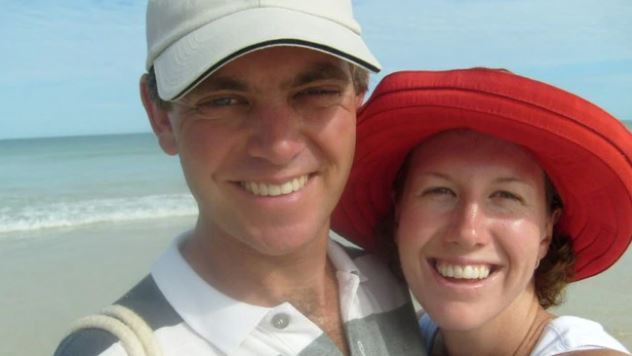 Kellie and Andrew pictured together in 2010. Picture: Supplied by family

That morning, before the fire, Kellie was enjoying a coffee with her "sweet, wonderful" husband at their farmhouse, north of Balaklava. Everything was perfect.
But in just a matter of hours, she was on the long drive home from Adelaide to tell her two boys the heart-shattering news that they were now without a father.
"I remember thinking 'How am I going to survive? How am I going to wake up tomorrow without Andrew'," she said.
"How am I going to look after two little boys? How am I going to run a farm?
"I feel like I died on that day – like a piece of me died, because I'm not the same person I was before."
She said Andrew was the "loveliest man" she had ever met. He had a "booming laugh and bright blue eyes".
They had met through a dating agency in the early 2000s. Kellie, working in Wagga Wagga at the time, was matched with Andrew, who thought he was destined to be a bachelor working on the family farm forever.
After several months of the pair driving between SA and NSW just to spend time with each other, Kellie made the decision to move to Balaklava to be with Andrew.
She described their love story as being a "fairytale".
"I love how we met. It was different to everyone else," she said. "He was so sweet. Every morning when I woke up he would say 'Good morning, my beautiful princess'.
"He didn't care that he was soppy – he wasn't worried that he wasn't macho enough. He would hold my hand everywhere we went. He just loved our little family so much."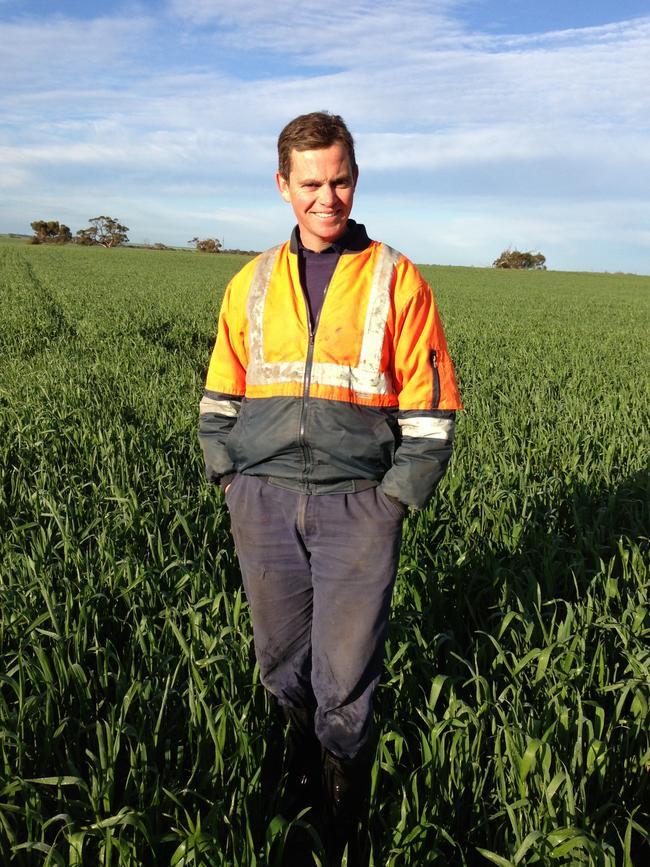 Andrew was a dedicated CFS volunteer for two decades. Picture: Supplied by family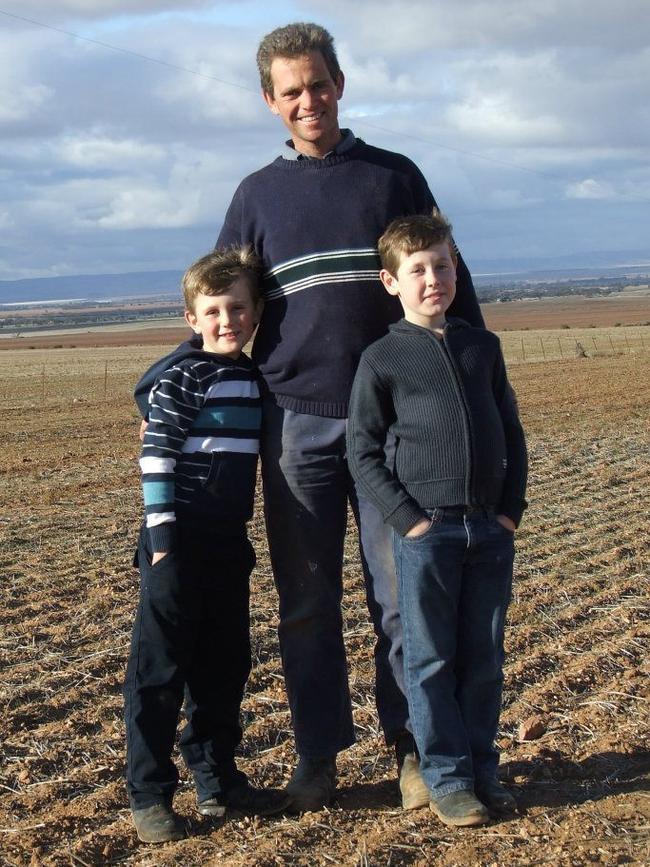 Andrew Harrison with sons Thomas (right) and Henry (left), who are now in their teenage years, on the family farm at Mount Templeton, 2012. Picture: Supplied by family
Kellie said the past six years had been a "hard slog".
She was diagnosed with post-traumatic stress disorder and still finds it hard to see CFS volunteers.
As a former financial counsellor for Rural Business Support, Kellie was taking calls from bushfire-affected farmers during the 2019-20 summer blazes.
"I had most of January off, as I had booked annual leave. I really struggled to go back to work knowing I would have to take those calls," she said.
With family in NSW also affected by the summer fires, she spent large amounts of time on apps showing the locations of active bushfires. "When I look back, I realise that's trauma … I need to know what's going on," she said.
"I do try to control things, because I had no control at all when we lost Andrew and my world was flipped upside down in a minute."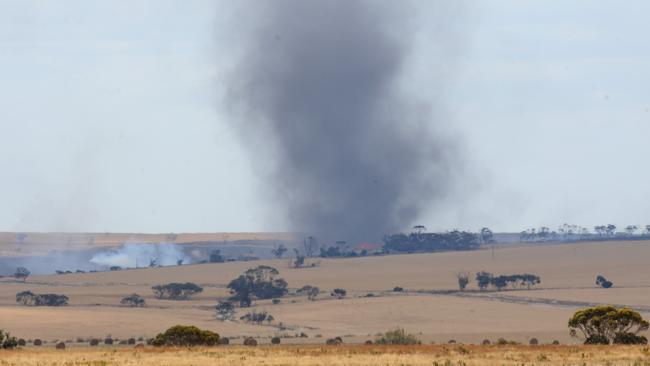 The Nantawarra fire was started by a farmer reaping on a paddock.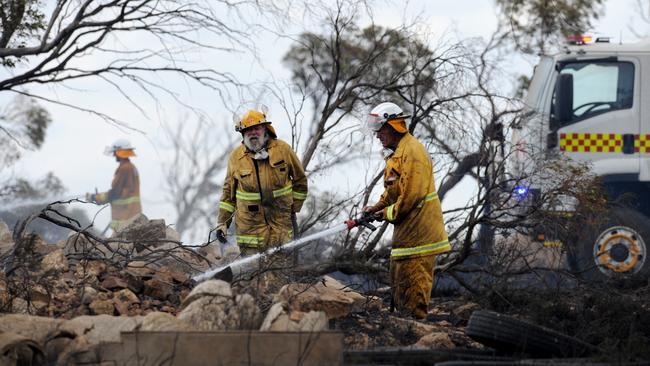 The flames headed southeast towards Whitwarta, Bowmans and Balaklava. CFS volunteers John Fitzgerald and Denis Story are pictured mopping up hot spots near Whitwarta.

Kellie remembers how, just a week before the fatal fire, she noticed Andrew's duffel bag, bearing the CFS emblem, in a shed on their 1200ha cereal and cattle farm.
"I was fluffing around in the shed with him and I said 'Sweet, you should put your bag in the back of your ute so that you've got it with you ready to go'.
"And he said, 'Oh no, it'll be right, I've got to come home before I go out to the CFS shed anyway so I'll grab it then'."
But when the Nantawarra fire broke out, he didn't do either of those things. He went straight to the fire in just his farm clothes.
"I don't know whether that gear would have saved Andrew's life … but my message is don't take those risks, just put your gear on," Kellie said.
"I'm really angry that I've still got Andrew's CFS gear and I don't have him. I need to do something positive with that.
"There are only so many times you can kick a bag around, it's not healthy – and I don't think I've been in the place emotionally where I was ready to do something with it. But I am now."
Kellie, who now lives in Royston Park, plans to hold talks with CFS volunteers, using Andrew's bag as a grim reminder of the ruthlessness of bushfires.
"You get one life and I want to make a difference somehow," she said. "I don't know how to do that, but I think this is a good place to start."
To view this article, please visit: www.adelaidenow.com.au