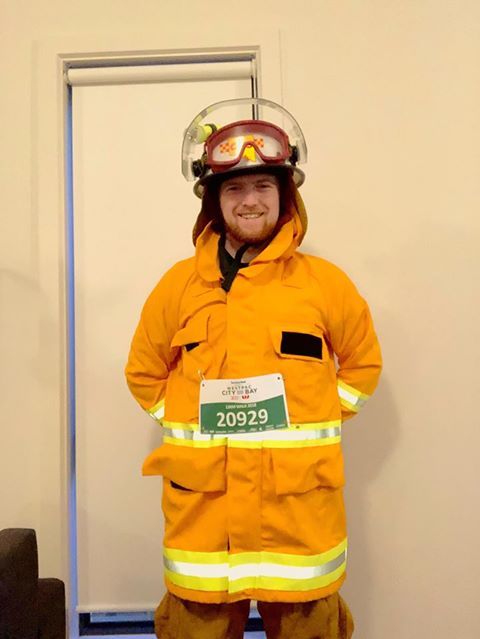 A big congratulations to one of our incredible CFS Volunteers James.
James decided to participate in the 12km City to Bay fun run in full CFS Uniform, including his work boots. His aim was to raise funds for the CFS Foundation and spread awareness of SA's CFS Volunteers. James said " I wanted to run in this years fun run, because I wanted to prove to myself that I could do it and to raise money for a great cause in the process". After the event, James' feet were covered in blisters and needed a few days for his body to recover.
In 2019's City to Bay fun-run James has vowed to run in the full (BA) Breathing Apparatus uniform for the whole 12km fun run. "After this years event had finished, I felt proud that I had actually gone through with this year's City to Bay and found that in that moment I knew I would be doing it again the following year". His thoughts on running in BA next year ..... "I'm probably crazy, but when I push myself I can accomplish things I never knew I could achieve"
That is nothing short of incredible James. We would love for others to join James in next years event, so invite your Brigade, Lieutenants, Captain, Group Officer and fellow firefighters to join in the fun !! Follow our Facebook page for updates leading up to next years event.
Lock in the 15th September 2019!!!
We are so proud of James' efforts and Thankyou for your ongoing support to the CFS Foundation.