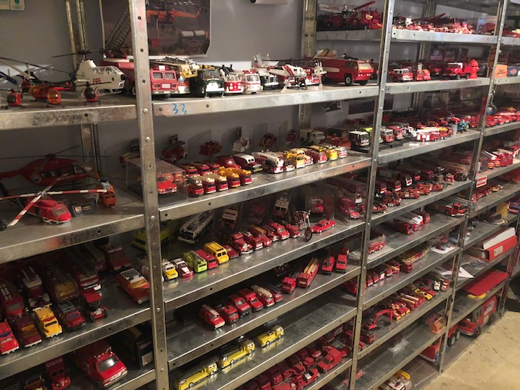 Michael Edwards was a CFS volunteer for over 30 years, receiving many medals during his time including the National Medal for Service and the 2001 International Year of Volunteer's medal.

Recently, he opened his home to the Foundation and it was clear that Michael has dedicated his life to CFS. His love started at the age of 21, when he was given the gift of a model fire truck. Since then he has collected approximately 1,000 models with his earliest dating back to the 1800's and even fire vehicles with horse drawn carriages. In addition to this, he has collected an impressive assortment of pins, rare 'firetruck' cards, books and memorabilia.
Michael, has very proud moments and memories of being a CFS volunteer, and still to this day makes model fire stations, and reads history books; one of which he is even featured in.
Whilst Michael is unable to continue his passion of volunteering, he still fundraises for the CFS any chance he gets. For 6 years he and his wife Vesta have put up Christmas lights with donations tins, spreading Christmas cheer and the message of the CFS volunteers. Their proudest Christmas acquisition being a Santa riding a firetruck, which sits proudly in their front yard, and is thought to be the only one in Australia.

We thank Michael and Vesta for their time with the foundation and sharing his amazing collection. We encourage anyone else with any stories to please reach out to the Foundation, we would love to hear from you! Please email alysha@cfsfoundation.org.au