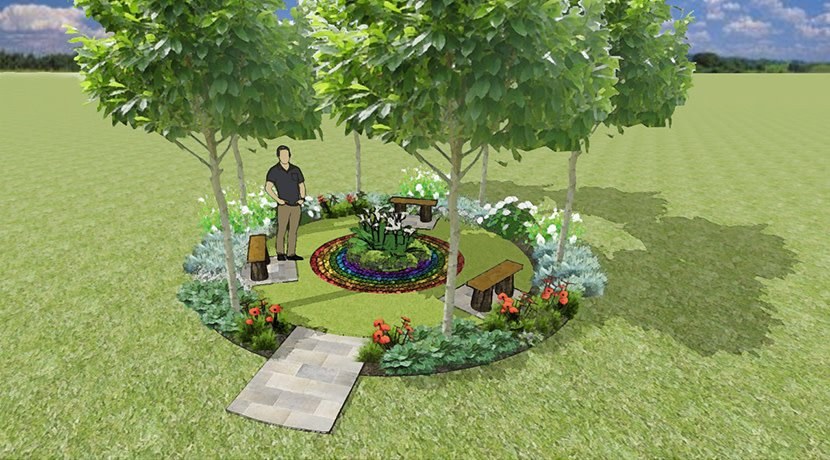 On the 21st of January Happy Valley Senior Firefighter Louise Hincks tragically lost her life whilst firefighting a large bushfire in the states south east. Louise was a dedicated firefighter, health care professional, mother, daughter, sister, wife, mentor, and many other things, but she was also a passionate gardener. Louise's CFS brigade, Happy Valley have decided to create a memorial garden for her to be remembered out the front of the brigade.
The CFS Foundation has offered to co-ordinate the building and establishment of this garden.
GARDEN DETAILS:
Garden to be on existing grassed area (which will be replaced by concrete and gravel) which will require a retaining wall to be built to levelled out the garden area
Grassed area to be replaced by the following: a circle of aggregate concrete incorporating an outer and inner boarder to house a garden bed
In the middle of the aggregate concrete a plinth stone with plaque
x3 bench seating (possibly concrete seating for ease of maintenance) to be placed around the inside boarder of the garden
Garden to house x3 cherry blossom trees (Louise's favourite tree) with medium size planting at the back of the garden bed and smaller size planting at the front of the garden bed
The rest of the area the non-aggregate concrete area to be filled in with gravel or river stone with possible grasses to the side of the garden by the car park area
x2 flag poles to be erected near the entrance to the garden (one flag pole has been erected and paid for by the Brigade. The other flag pole has been secured in a grant)
The garden possibly going to the line of existing pine trees, to the beginning of the path by the storage shed and down to the gutter of the existing car park area.
The CFS Foundation is excited to announce that we have secured a grant of $5,000 from City of Onkaparinga to start this project and have also received donations of Cherry Blossom trees, the large memorial rock and some Bunning's vouchers. However, the earthworks quote is over $17,000 so we are now seeking donations from the general public and businesses to assist with this project.

If you are able to help us with a donation towards the garden, please log onto our website and from the DROP DOWN menu select "CFS Happy Valley Memorial Garden for Louise" in the donation type. All donations towards the memorial garden are greatly appreciated.
If you would like to contribute time, products or assist us in any way towards the memorial garden, please get in touch with Gloria - gloria@cfsfoundation.org.au or Alysha - alysha@cfsfoundation.org.au